Revisioning You
A Five-Week Journey from Discovery to Action.
Reconnect with your joy, find your clarity of purpose, and uncover your path forward.
You used to have a clear direction…
And you followed it.
You set your bar high. You achieved so much. You should be happy…
What you didn't realize was that the directions you were following were not fully yours… that you were following a path that someone else laid out for you, or that you "should" follow.
You were following someone else's map to a destiny that isn't yours.
You can't quite put your finger on it.
Where once you moved with assurance, now you hesitate.
You're used to knowing what you want. But now you feel unclear.
You're haunted by a nagging sense that something is missing from your life.
What happened to the dreams that used to live inside of you?
How do you find them again?
None of us were taught what to do when we lose track of our dreams.
You're wandering in unknown territory with no map and nobody to follow.
You're looking everywhere – reading books, taking workshops and classes, listening to lectures, traveling the world – but that deep connection is still eluding you.
What might you be able to achieve if you could uncover that missing piece?
For this you need a guide.
It's time to figure out who you are now and who you're meant to be. 
It's time to re-connect with those dreams, and remember how to make the contribution you know you're meant to make.. 
It's time to get the clarity you need.
Finally see the bigger picture and truly understand what will move your life forward in the direction of your greatest desires (and what you can leave behind).
It's time to embrace what you
really
want out of your own precious life.
You want to do something that …
… matters to you
… has meaning in the world
… makes the difference you deeply desire
… creates joy
But these seem just outside your reach. 
Imagine knowing your place in the world…
Knowing that you are in charge of your own journey, and where it takes you.
This intimate, highly personalized 5-week journey has been designed to help you rediscover your deepest self.
Connect with your values, priorities, dreams, hopes, and talents.
Reconnect to your meaning and your work.
Write your future the way you want it to unfold.
When we've completed our work together, you'll have a clear sense of who you are right now, clarity on your path and the right steps to get there. 
I don't think I'm overdoing it by saying that Melanie's Revisioning You program transformed the way I see myself and my life. I've experienced a genuine, lasting shift in both my outlook on life, and how I actually use the time I have in a day.  I feel noticeably happier in the many months since the course ended! You should do this for yourself!
What makes my Revisioning You program different from other coaching you've done?
This is not just another group to
"figure out your life purpose"
This is so much more.
In this step-by-step experience you'll take the time to really uncover and connect with your inner guidance system — the one that gets suppressed from years of living up to other people's expectations, dreams or values and hijacked by the stories we tell ourselves. 
After you complete the program, you will have a roadmap for your next day, your next 90 days and beyond. You can move ahead feeling more confident, lighter, more spacious, and open to more joy, knowing you have a firm foundation and plan. 
This is your time and Revisioning You is your guide.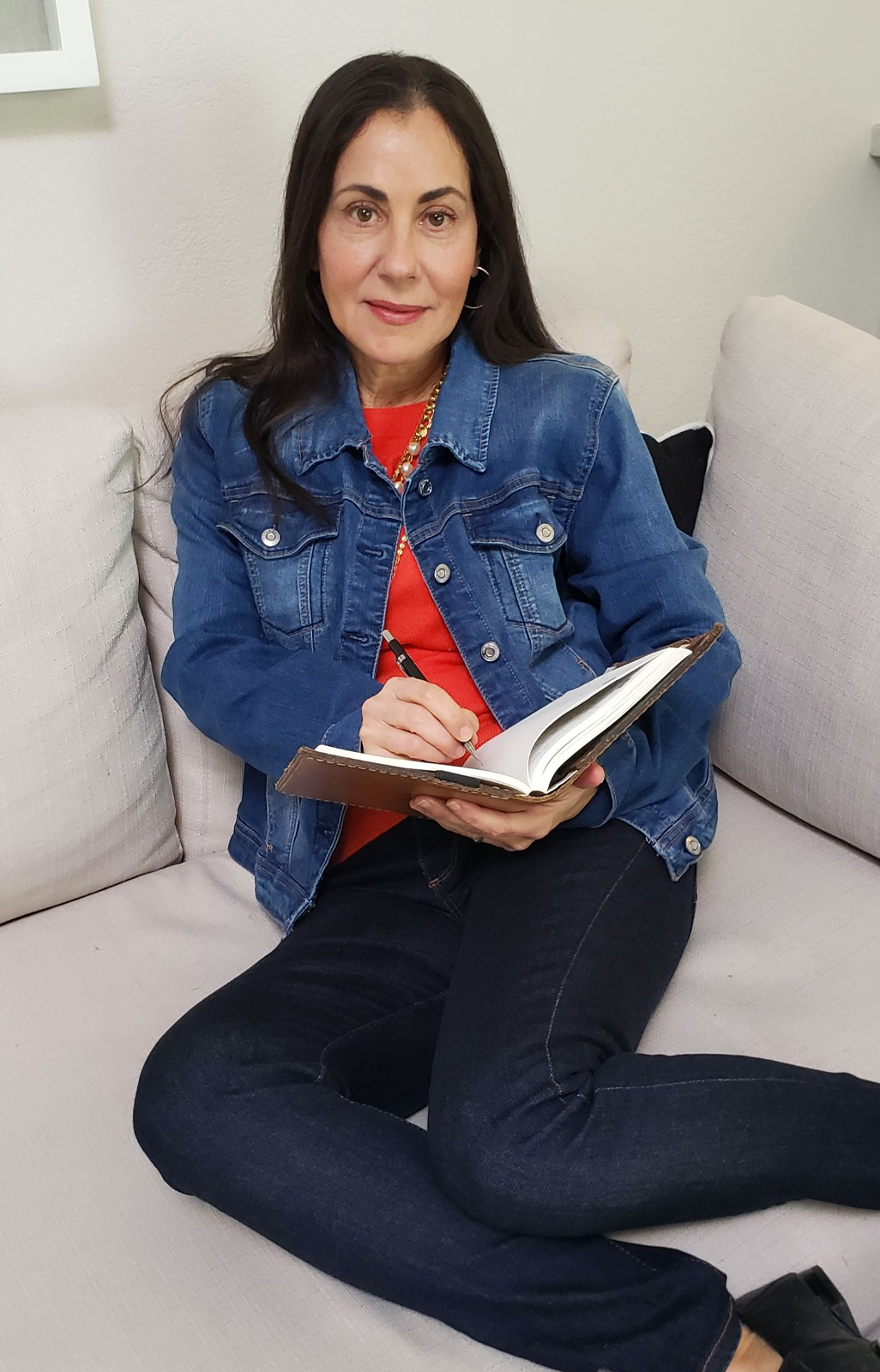 I have been on this journey, and I want to guide you through all of the challenging and thrilling parts. 
Like many of us, I grew up in a household with very high expectations. My parents worked hard and expected me to do so as well. My number one goal was to make them proud — to reward them for all of their hard work and commitment to me.
And boy did I achieve. Smith College -> Harvard Law School ->  Top National Law firm.
Years grinding away … at someone else's dream.
It wasn't until I reconnected with who I am at my core and what I love — stories, creativity, reflection, and writing something (anything) besides legal briefs — that I finally found space for my dream.
And now I've made it my life's work to help people like you connect deeply with who you are — what you value, what matters to you and what lights you up — so that you too can experience the clarity, joy, and possibility that I feel in my life each and every day.
If you are committed and open, you will create meaningful change … and I'll be there to guide and support you at each step.
Pivot Points
The stories you tell yourself about your past have a lot to teach you. Learn how to recognize stories and beliefs that don't serve you and those that do.
Laying Your Foundation
Uncover your strengths and core values, and learn to recognize your signposts to keep you on your path.
Design Thinking
Using design thinking you'll lay out your ideal day, and begin to see what makes you feel fully alive, engaged, and on-fire with excitement and energy.
Moving Forward
You know your direction, but how do you make sure you stay on your path?  Establish bright yellow line boundaries, work on your mindset and positivity, and develop productive habits that lead to dreams accomplished.
Mastery
Now you have a solid foundation and know your key stories, your core values, your strengths, what creates energy and engagement in your life, and what you want your life to look like. It's time to shift into future tense.
Let's discuss the details…
Revisioning You is an intimate, highly personalized 5-week program.
During these five weeks, you'll dig deep and reflect to find your core.
Using my signature process, I'll guide you each step of the way through exercises, conversations and writing prompts, and you'll learn tools to help you stay on track even after we've completed this 5-week journey together.
If you're going to do anything this year – work with Melanie. Thank you Melanie for sharing this gift. You created such a beautiful, safe and comforting space – I am grateful.
Coaching Sessions:
This is NOT a lecture or self-directed course.  It is an intimate, personal, immersive experience and a two-way conversation.
All sessions are live online for two hours, at a time agreed to by you and me.

You'll be expected to show up to our weekly sessions, ready to do the work.

Each of our weekly sessions will follow a similar structure, taking place by Zoom video conferencing with prepared topics and exercises to help move you step by step through the Revisioning You process. Following these steps ensures we stay on track to complete the work within the 5 week timeframe. 

During each of our sessions, we'll work together on exercises and writing prompts to delve into you and see what comes out.

Expect to dedicate a few hours per week to writing and thought assignments between sessions, and when we meet again we'll discuss how you felt about the process.

You'll also have access to me, Melanie, by email or Voxer (voice messaging app) at any time during the 5 weeks.
OUTCOMES:
Revisioning You is an intimate, highly personalized experience with high touch individual support.
I believe in the results I deliver and the testimonials from past clients highlight the transformational nature of the experience.
This is not a "course," it is a relationship.
Everyone's results are different, but everyone is transformed.
Revisioning You was amazing. I learned and thought about so much in the 5 weeks. Every minute was rich and engaging. One of the key things I discovered through the workshop is to relax about what's next —- now my day to day reflects what I value, what matters, and I know how to move forward.
I'm so happy I signed up for Revisioning You. The individual attention that Melanie provides is powerful, and the coaching sessions are magical. The reflective writing method that Melanie teaches is a transformative and unique experience that helped me unfold from within. I definitely recommend Revisioning You.
How to sign up:
I set aside a very limited number of places for one-to-one clients.
If the program sounds delicious to you, please get in touch right  away as I only work with a few people at a time – I want to have the energy and time to give you my FULL attention so you get the results you deserve!
Click the button below, then enter your name and email address and I'll be in touch to set up a free consultation call, where we'll discuss your goals and timeframe. 
If we decide to work together, we'll decide on a date to get started, and book your weekly sessions right then and there!
Get started today. Move forward with your life.
(or two equal payments of $550)
Just fill out the form below, and I'll be in touch to set up your free consultation call.
Revisioning You came at a great time in my life. I wanted to get reintroduced to who I am and what it is I want to do.  It was a great opportunity for me to go back to my foundation and rebuild. The program was extremely helpful because it opened up new ideas for me and the content was great. It felt so reassuring that Melanie was able to help me get unstuck and move forward. If now is the time for you to move forward, then Melanie is truly the best person to guide you structurally and emotionally on your journey. She will be with you every step of the way.
Is Revisioning You right for me?
This is for you if you are ready to:
Connect to who you are and want to be: your authentic self
Develop a new awareness of your strengths, values and skills
Identify the fundamental blocks that are keeping you from moving forward
Act courageously to step forward into a new way of being
Take a dive deep within yourself
Dream big
Push through resistance
Go forth joyously and with fortitude
Creatively develop new habits and patterns to take your life to the next level
Embrace who you are and what YOU want
This program is not informational.
It's
transformational

.
Now is the time.
One year from now you will surely arrive at a destination.
Will it be a destination of your conscious choosing — one that's designed by you to reflect a deep, meaningful connection with yourself and who you are at your core?
Or just … wherever this current path is taking you?  Towards the same you, the same life, the same dream that still belongs to someone else. 
Will you be different from who you are today? 
Or will you still be searching for the answers you could have had if you chose to strike out on that new path today?
Just fill out the form below, and I'll be in touch to set up a free consultation call.
No pressure – I genuinely want to make sure Revisioning You coaching is the right choice for you right now!