If you have a child starting school this year, you may be looking for a way to make it special. But even if your kids have been in school for a while, traditions matter. Sometimes we hear the word tradition and get overwhelmed, thinking of one more thing we're supposed to do. But back to school traditions can be really simple and still be meaningful.
You can be intentional about creating a tradition (and I've got some ideas for you). But many traditions start simply as something we do … and then repeat because it worked or we liked it or our kids ask us to do it again. Either way, traditions help build memories and connections.
As you start thinking about traditions, consider the period leading up to the start of school, the morning of the first day, and after school on the first day. Remember to keep it simple and focus on your values and way you want to feel. Here are some ideas to get you started.
Create Special Back to School Traditions to Get Ready for School
Use a countdown to school calendar. The simplest way to do this is to mark the first day of school on a wall calendar and then X off or color in each day that passes. You could also create a calendar of activities (things like shop for school supplies, list 3 things you are excited about for the coming year,  …) to complete before school starts and do those activities together or have your child do them each day.
Create a special ritual around back to school shopping. I used to make three trips for back to school shopping. I have three kids and took each of them separately. It would have been more efficient to go once, but the one-to-one time gave each of my kids a chance to talk about the upcoming year and their hopes and worries in a way they wouldn't have if we did it all at once. Maybe you take your kids back to school shopping one by one. Or maybe you make it special some other way. Maybe you go to lunch together while you are out or choose one thing that isn't on the list of supplies, but is just fun to start the year.
Write a letter to your kids. Use your letter from the heart to share your hopes for your kids in the coming school year. You might choose to reflect on the summer and changes you've seen in them or values that they exhibited that you want to continue to focus on throughout the school year. You might address challenges that you think they will face and how you hope they will approach them. For example, maybe you know your child is worried about starting in a new school and you want to remind them of other times they have faced new situations, been brave, or made new friends.
Host an end of summer/back to school party the evening before school starts. Back to school is a transition. Marking both the end of summer and the beginning of school is a great way to make that transition meaningful. One tip: start your celebration early so everyone can get a good night sleep to start off the school year.
Set an intention for the year ahead. At bedtime, ask your kids to share one hope or intention for the year. "I hope I make a new friend" or "I want to learn to read chapter books this year" or "I'm going to try my best even when it's hard." You could also write these down and check back in on them later in the year.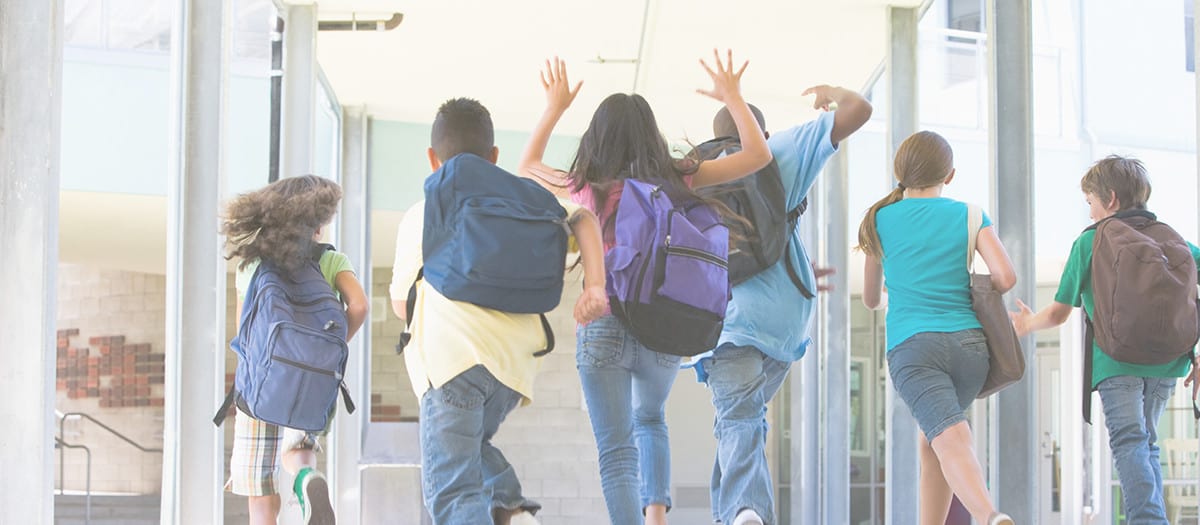 Create Special First Day of School Traditions
Take a picture in the same place each year. While I love the power of writing and storytelling, I also know that pictures help us keep memories. First day of school pictures compared year to year or to their counterparts from the last day of school, show growth and change. Taking a picture in the same place each year adds another layer to seeing that change. Go ahead and ask for a serious picture, posed the way you want. Then let your kids do their own silly pose each year. If you can, get somebody to take a picture of you with your kids as you kick off the school year.
Serve the same special breakfast. In my family it was pancakes (blueberry or chocolate chip, depending on each child's preference). Your breakfast should fit your timeframe and your kids preferences. Special breakfast doesn't have to be elaborate. It could be cereal served in a certain bowl that you use for the first day of school or a hardboiled egg with a the new grade number written on the shell. I have a friend who makes banana chocolate chip muffins every year. She makes them ahead for a quick, easy breakfast as they get ready to head out the door.
Write a have a great year note. Slip it into your child's backpack or tuck it into their lunch. It can be short—Love you! Have a great first day! Or Happy 2nd Grade with a smiley face. This might be something you carry on throughout the year or simply a tradition you reserve for the first day of school.
Create Special Tradition After School on the First Day
Celebrate with a special snack. Go out for ice cream. Pop some popcorn. Toast with sparkling cider. Even if you can't be there when your kids get home from school, they can still enjoy a first day of school treat.
Interview your kids about the first day of school. Treat them like a celebrity as you ask the questions. You can even record the interview for posterity. Ask questions like:
What grade are you? Who is your teacher?

What friends are in your class?

Tell me about your new classroom.

What was your favorite (or the most exciting/interesting) part of the first day of school?

What are nervous about this year?

What are you most excited about this year?

What are you looking forward to tomorrow?
You can also record their responses (or if they can write, have them do it), to these questions.
Have a special back to school dinner. Yes, this is another idea centered around food. Meals bring us together, so they are natural parts of our traditions. For your back to school dinner, you could serve the same thing every year or let everybody choose one favorite thing to come together for a special meal. Make a plan and prep ahead of time so that you can be present to hear about the first day or deal with any challenges that arose. And, try to keep it quick and simple. The first day of school can be exciting—and tiring.
You can even ask your kids what would feel special to them on the first day of school. Maybe they'd like to eat breakfast outside or have a chance to read and snuggle together before heading off for the day. Maybe what they'd love most is to have you pick them up. Find something that feels special to them and works for you.
Don't get overwhelmed by the idea of starting a new tradition from scratch—or get caught up in creating an Instagram-worthy ritual. The best traditions fit your family and are fun for you and your kids. These rituals deepen connections and build memories.
Share a back to school traditions—simple or elaborate—in comments.
Letters from the heart are one of my favorite tools to mark milestones and share your love, hopes and wisdom. They are like a hug from you that you child can have whatever they are. As my kids are in college and grad school, this is one tradition I can still accomplish from afar (ok I also send a box of their favorite snacks). And if you make a tradition of writing one each year, you child will have a record that grows with them. Imagine the fun memories for your child when they read your hopes and what you see in them over time. I didn't start writing until my eldest was 20 – it's never too late to start!
Writing a letter from your heart isn't complicated, but sometimes it's hard to get your ideas together or to share your hopes without feeling preachy. I can help you find and share important stories in a back to school letter that becomes a tradition and a lasting memory for your child.
Family stories are your heritage. Each family has a history that no other family has. If you're interested in the role of storytelling in your own family legacy, download my free resource 5 Questions to Ask at the Table. By telling your stories and sharing them, you keep your history, tradition and ancestors alive, and build connection within your family and across generations.